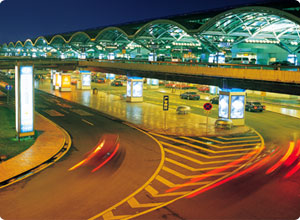 IN THE language of architecture, the Beijing Capital International Airport's statement of intent is concise and unequivocal: it is a building designed for shock and awe.
This week, as hundreds of thousands of tourists, athletes, journalists, and administrators descend on China in advance of the Olympic Games, the new Terminal Three building will offer them a startling introduction to the nation.
Designed by Norman Foster at a cost of £1.75 billion, it is one of the largest structures in the world, dwarfing even the combined size of all five of Heathrow's terminals.
Encompassing a double-skinned aluminium canopy of silver slats under a russet roof, it is a potent symbol of what outside observers have been declaring as the engagement of China with westernisation.
For all their aesthetic power, however, the creations of Foster and his peers – such as Herzog & de Meuron, the Swiss architects behind Tate Modern, who designed the new National Stadium – the new skyline of Beijing ought not to suggest the fruits of three decades of modernisation are all-encompassing, or have emerged without pain or strife.
The grand Socialist landmarks still remain – the Great Hall of the People and the Revolutionary Museum – but more telling is what has been razed to make way for the vast Games infrastructure.
According to the Geneva-based Centre on Housing Rights and Evictions (COHRE), about 1.5 million people have been displaced from their "hutong" homes since 2000 due to construction and urban redevelopment, not including those migrant workers living in temporary neighbourhoods, or those dissidents rounded up and removed from sight. In a report published this month, it directly blames the Beijing Organising Committee for the Olympic Games (BOCOG) for destroying affordable housing units, and using tactics of harassment, repression, imprisonment, and even violence.
Continue reading "Olympic colour cannot hide grey of Mao suit"